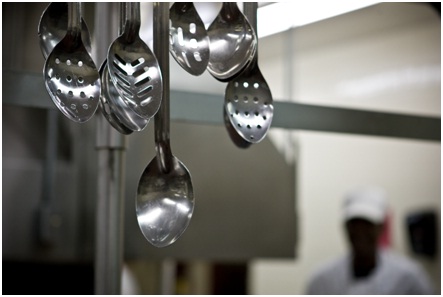 In the 1970s, representatives from many churches decided that there was need to establish a Dorothy Day Soup Kitchen. For years meals were prepared and served at St. John's on York Street in Bangor. Due to needed repairs to the church, an alternative site was needed for the soup kitchen. The Salvation Army volunteered their facility.
In the 1980s, the Bangor Corps started offering hot meals at their Dorothy Day Soup Kitchen. Noon meals were served 6 days a week and a breakfast was served on Sundays. Food continues to be prepared and served by dedicated volunteers from various churches and service groups.
Today, Dorothy Day Soup Kitchen feeds on average 100 hot meals each day Monday through Friday; and an average of 50 meals on Sunday mornings. Many times this is the only hot meal the patrons of our Soup Kitchen will have each day. We are so grateful to our many wonderful volunteers who prepare and serve each meal every day.
If you or your group would like to volunteer at The Salvation Army's Soup Kitchen, please call our office at 207-941-2990 for more information.
Soup Kitchen Hours of Operation

Monday-Friday 11:45AM-1:00PM
Sunday 8:30AM-9:15AM